Canned Cold Brew
Introducing Red Bay Coffee's Canned Cold Brew, the ultimate fuel for your hustle, and the embodiment of our "Great Grinds Drink Alike" campaign. With three delicious flavors to choose from, including Cold Black Coffee, Oatmilk Vanilla Latte, and Oatmilk Mocha Latte. Each can contains a refreshing and smooth blend of cold-brewed coffee, carefully crafted to bring out the bold and rich flavors of the beans.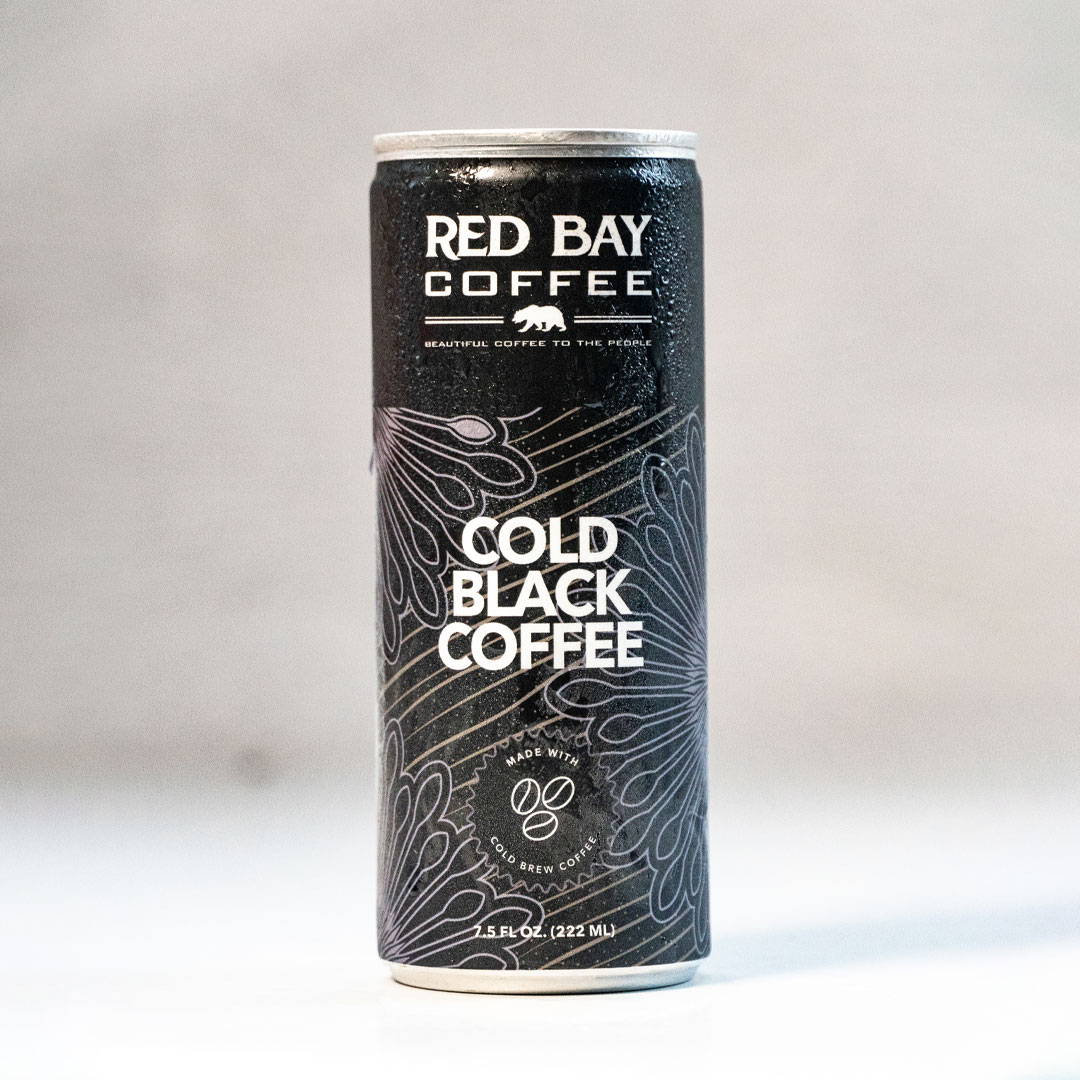 Cold Black Coffee
If you prefer your coffee black, then Cold Black Coffee is the perfect choice for you. With its bold and smooth taste, this canned cold brew is the ideal way to enjoy coffee at its purest.
Vanilla & Mocha
Oatmilk Lattes
If you love a touch of sweetness in your coffee, try the Oatmilk Vanilla Latte or Oatmilk Mocha Latte. Both flavors feature the creamy goodness of oat milk, combined with the rich taste of coffee and the delicious sweetness of vanilla or chocolate.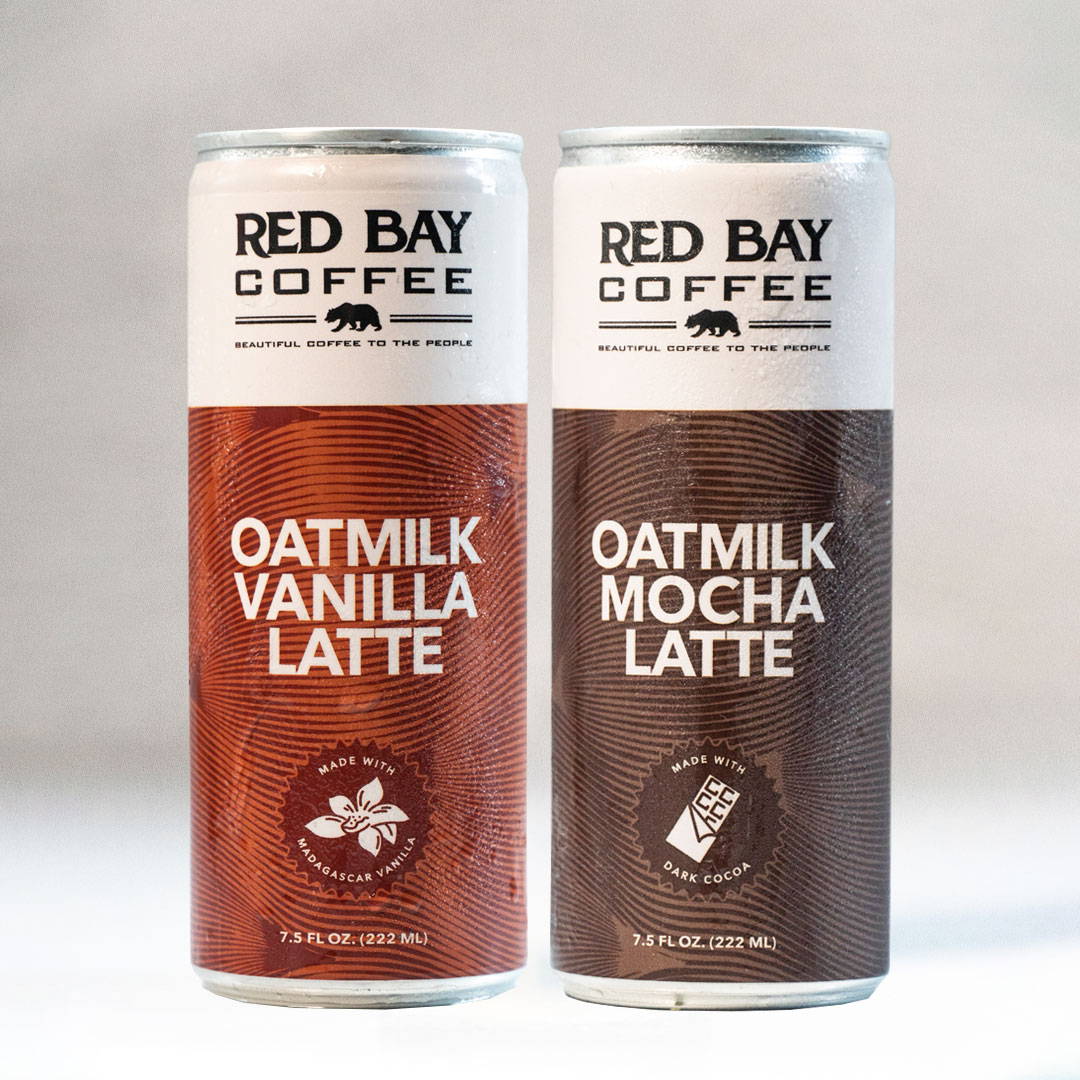 Available at
Select Targets
5001 Junipero Serra Blvd, Colma CA 94014

2485 El Camino Real, Redwood City CA 94061

7200 Amador Plaza Rd, Dublin, CA 94568

560 Contra Costa Blvd, Pleasant Hill, CA 94523

4301 Century Blvd, Pittsburg, CA 94565

200 Vintage Way, Novato, CA 94945

4300 Las Positas Rd, Livermore, CA 94551

2610 Bishop Dr, San Ramon, CA 94583

2220 Bridgepointe Pkwy, San Mateo, CA 94404

1871 N Main St, Walnut Creek, CA 94596

133 Serramonte Ctr, Daly City, CA 94015

39201 Fremont Blvd, Fremont, CA   94538

15555 E 14Th St, San Leandro, CA 94578

2499 Whipple Rd, Hayward, CA 94544

4500 MacDonald Ave, Richmond, CA 94805

5769 Lone Tree Way, Antioch, CA   94531

1057 Eastshore Hwy, Albany, CA   94710

19661 Hesperian Blvd, Hayward, CA 94541

43950 Pacific Commons Blvd, Fremont, CA   94538

1555 40Th Street, Emeryville, CA 94608

2675 Geary Blvd, San Francisco, CA 94118

2800 Dublin Blvd, Dublin, CA 94568

125 Shoreline Pkwy, San Rafael, CA 94901

2700 Fifth Street, Alameda, CA 94501

180 Donahue St, Sausalito, CA 94965

1775 E Bayshore Rd, East Palo Alto, CA 94303

2650 Broadway, Oakland, CA 94612

1338 San Pablo Ave, Berkeley, CA 94702
The Great Grinds campaign behind Red Bay Coffee's Canned Cold Brew isn't just about caffeine. It's about the idea that we can all use our passions and hard work to achieve greatness. Red Bay Coffee is committed to supporting those who are working hard to pursue their dreams, and this campaign is all about celebrating those individuals and their hustle.
With Red Bay Coffee's Canned Cold Brew, you can fuel your own hustle and take on the day with confidence. Whether you're working on a new project, running a business, or simply trying to make it through a busy day, these cold brews are the perfect pick-me-up.
So join the Great Grinds movement and fuel your hustle with Red Bay Coffee's Canned Cold Brew. Order now and start achieving your dreams, one delicious sip at a time.
ASTU
Vocalist/Songwriter/Composer/Director
ASTU is a Black, queer, and gender-expansive interdisciplinary artist - vocalist, songwriter, composer, actor, and film director. They left life as a minister and found themself in R&B, expressing their sexuality, identity and life experience in their music and art.
Amir Aziz
Photographer
Amir Aziz is a talented Photojournalist and Documentary Filmmaker based in Oakland, California. Amir's work has been featured in several prominent publications, including The New York Times, San Francisco Chronicle, and The Globe & Mail.
Traci Bartlow
Dancer
Traci Bartlow, a dancer who is proficient in many styles, has a passion for documenting and preserving black dance and culture. She has been a principal dancer and soloist for dance companies and international theater and television productions. Growing up in Oakland, California she learned early Hip Hop dance styles from some of the originators in Hip Hop culture.
Ubi Simpson
Designer
As the lead designer and founder of Mi Cocina, Ulrich Conrad Simpson, known to most as Ubi, has re-imagined denim with a functional and stylish take on the modern home. 

Ubi spent years working for iconic brands like Tommy Hilfiger, Coach, Diane Von Furstenberg, Calvin Klein , and Ralph Lauren before the inspiration for Mi Cocina struck him while making breakfast for his young family.
Dr. Aisha Mays
Doctor
Bay Area native, Dr. Aisha Mays, is an Adolescent Medicine Physician, Researcher, and Author. She is the Founder of the Dream Youth Clinic in Oakland, California, and an adolescent Clinical Researcher with the UCSF Bixby Center for Global Reproductive Health.
Phillip Gums
Fashion Entrepreneur
Phillip started out in the fashion industry as a young model in the Bay Area, he thrived in front of the camera and loved that he could make a living by taking photos and meeting amazing people from all over the world.
Cynthia Oliver
Entrepreneur
Cynthia was born in Wilmington, NC in 1950 - growing up through Jim Crow and desegregation. She went to high school in Upstate New York and lived briefly n Venezuela while learning industrial food production in a cheesecake factory.
Arnold Perkins
Community Advocate
Arnold Perkins is an agent for social change locally, statewide, nationally and internationally. His work has impacted philanthropy, public health, criminal justice, government, and violence prevention. He has a special interest in working with young people who are experiencing life challenges in the criminal justice system.
Nick James
Designer
Nick James is a Brooklyn-based designer from Oakland, California. He utilizes his design talents as well as his educator background to help assist in the design and programmatic efforts for numerous nonprofits, businesses, and initiatives.